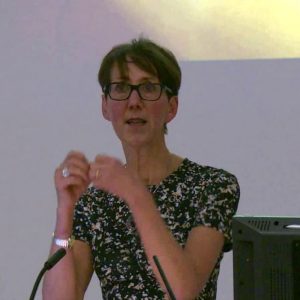 Prof. Wendy Keay-Bright
Cardiff Metropolitan University, Wales
Title: TBA
Bio:
As Professor of Technology and Inclusion, Wendy has over two decades of experience in interaction design, communication design and animation. In 2005 she was awarded a NESTA Learning Programme award to develop playful technologies that could foster an interest in communication for autistic children. Following this project, she led a range of externally funded projects, with, for example, National Film Board of Canada, Rayne Foundation, Higher Education Academy, Technology Strategy Board, ESRC, EPSRC, Arts Council of Wales and the Raspberry Pi Foundation. Each project resulted in software applications for desktop, whiteboard and tablet PC, training resources and materials for schools, as well as workshop activities, live performances, and events.
Wendy's research strives to discover an enchantment with simple things, and to arose curiosity through interaction, enabling a positive experience that always begins with individual ability. The focus of this work has been on engaging learners with cognitive and sensory disorders, of all ages, using the interface as a conduit for real world exploration. Throughout her research she has been fortunate to have collaborated with marginalised groups, families, healthcare and education professionals, using participation and co-creation to realise magical, in the moment, interactions between people and low-cost technologies.
Wendy's work is characterised by a minimalist approach to design, allowing people to add their own complexities by removing cognitive stress and placing them at the heart of a playful interface. Her work aims to place interaction in the here and now, as a performance, unique rather than generalised. The role of technology is to augment and render these experiences, so that they are palpable to both the user and audience. Inspired by philosophical perspectives on phenomenology and perception, Wendy's research is always iterated over time, so that stakeholders are given opportunities to explore and implement prototypes so that they can be adapted and maintained beyond the research phases. For this reason, she committed to experimentation with consumer-based, open-source, affordable platforms as a way to invite creative and critical exchanges between stakeholder, designers, professionals and IT support. The outcome is to provoke discussion and ideas, rather than to seek a solution to a problem.
The most recent example of this kind of collaboration adapted the nine principles of the Maker Movement: make, share, give away, learn, tool up, play, participate, support and change, as a framework for enabling design with special education professionals. Making the Digital Future Crafty focused on building simple electronic devices and basic coding in a series of maker workshops that, in turn, stimulated conversations and stories describing learner ability. These stories invited ideas for technology concepts that could generate the pedagogical agency to support learner creativity. When placed within these real-life contexts, the concepts enabled participants to bring imaginative scenarios into being, and to articulate interaction within inclusive, future-facing narratives.
In 2015 Wendy established a pan-university research group, bringing the disciplines of the arts, sport and psychology together to work on applied research projects with stakeholder partners. The Centre for Applied Research in Inclusive Arts and Design (CARIAD) is a thriving hub of multidisciplinary research, supporting postgraduate students and real-world stakeholders in tackling issues of social concern. For more on CARIAD and Wendy's personal research projects see: http://cariadresearchgroup.cariadinteractive.com/
Abstract:
TBA